Contacts
Randy Pierce -UK Master Cattleman Graduate
Fallen Timber Creek Ranch LLC
3999 Kino Road, Glasgow, KY, 42141
www.FTCRanch.com

Telephone:

+1 270 834 1250

FAX *:

+1 270 428 5559

*Please call before sending a fax.

E-mail:

randypierce@ftcranch.com

How Are We 'doin' ?
Please feel free to give us feedback on the contact form to help us continue improving!
Our Location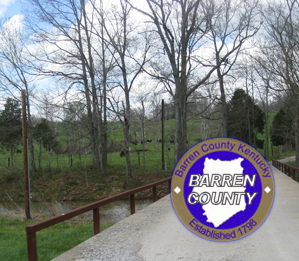 Fallen Timber Creek Ranch LLC is located in Barren County Kentucky
Designated as the 2007 Best Place to Live in Rural America, Barren County is a great place to live, work, and visit.

Our community offers its residents and visitors a wide variety of entertainment, historical sites, lakes, rivers, and some of the most beautiful nature scenes in Kentucky.

Barren County, located in south central Kentucky, midway between Louisville, Kentucky, and Nashville, Tennessee, is home to Barren River Lake State Resort Park, Western Kentucky University-Glasgow Campus, Glasgow Plaza Theater, site of the Glasgow Highland Games, and numerous other points of interest.

Barren County was founded on December 20, 1798, from parts of Warren and Green Counties. It was named for the Barrens, the meadowlands that cover the northern third. Seventy percent of the original settlers came from Virginia, eighty percent of them were English, Scottish, Welsh, or Irish.

The population of the county is 38,003, and the county seat is Glasgow.