Quality Products
We combined fresh running water, sunshine, the created earth, the changing of the seasons, and trace mineral salt, to create a great recipe for raising quality livestock. If you place all of this into open pastures with grass as high as your knees, you have what we like to think is the best recipe for raising livestock. Each of our calves and lambs are raised in the recipe for the best quality you can come by; and locally too. Time is essential. Here on the creek we value time and raise our animals slowly; naturally.
Quality Cuts of Beef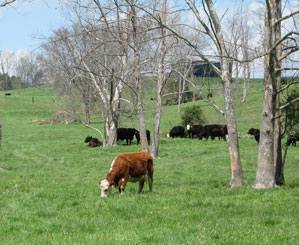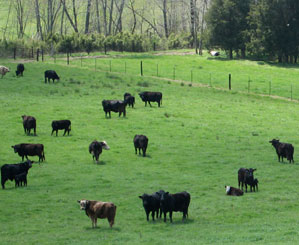 Quality Friendships
Our hopes are that you will find friends here on the Creek. We all go by our first name, and mix fun with work. Whether you purchase from us, or not, we hope to have you as a returning friend. If you already have purchased from us, we hope to have you back for more!
Quality Assurance
If for any reason our friends have a concern or question, we are here to help. We will either answer or find the answer to your questions and take care of your concerns. If for any reason you are not satified, we will refund 100% of any money collected.
Quality Standards
At the Creek, we adhere to the USDA Marketing Standards for grass fed beef and naturally raised beef as outlined in Federal Register volume 72, number 199 dated Tuesday October 16, 2009; and in Federal Register volume 74, number 12 dated Wednesday January 21, 2009.
High-quality livestock
Our Herd
We use tri-mix cows with pure bred bulls -- this provides for maximum herd health, naturally, without the use of injectable antibiotics in our calves.
Free to Roam
Herds are not closed into small lots, but have plenty of rolling hills and grassy flats on which to roam.
Local
Raised right here on Fallen Timber Creek Ranch, our calves are never imported, so we can guarantee their healthy, natural environment.
Healthy
Our livestock are range fed, with calves grass finished, the natural way. Grass and rain water. No hormones. No additives. Ever (Please note, under USDA Marketing Guidelines, we only vaccinate and de - worm our calves according to stringent protocols. All vaccination and de - worming information including frequency for your calf is available upon request.).