History
Fallen Timber Creek Ranch LLC was established on March 22,2001. Our Ranch is 620 acres, more or less, nestled in the knolls and forest along the creek it was named after... Fallen Timber Creek, in Barren County Kentucky.
Over the last nine years, our ranch has been consolidated from broken apart land tracks to its current size and field structure.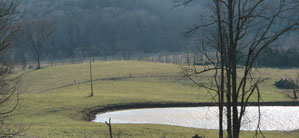 Life on the Farm
Life on Fallen Timber Creek is naturally healthy and wholesome ; the fresh air and grass is naturally better for raising happy cows.
"Things are slower here on the farm, but we like it this way" - Randy Pierce
Our Story
We, the Pierce family, (Randy, Beth, and our five kids), moved full time from Louisville, Kentucky to this rural area outside of Glasgow, Kentucky in 2002. From there we began our exciting, often humorous, and highly educational, adventure into a new way of living.
We first bought cows; then added sheep, chickens and horses along the way;; asked many questions and learned much.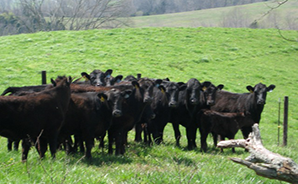 Eventually, we began to reap the rewards of our labor with fresh eggs, healthy beef, and childern who love nature and the spaciousness of the "country life".
Friends started to ask us if we would sell our beef to them because they too wanted healthier and more wholesome food on their table.
Now, we sell high quality farm raised calves, sheep, chickens and eggs to you, our friends and family ; one animal at a time.
Why choose us
Our Promise
The Pierce family and Fallen Timber Creek Ranch LLC desire to raise healthy cows naturally, with minimal medical interference for a finished product that we, the Pierce family, along with our friends, can eat and enjoy without consuming added hormones and chemicals. To this end, we will continue to strive for maintaining the healthiest environment for our cattle.
From our family to yours, the natural way