More Customer Quotes
"In the past we bought our beef from different providers till last year, when we ordered beef from Randy.
First, knowing Randy as a friend is great, and the beef we purchased from his ranch was superior in everyway. We plan to purchase more in the very near future."
Kazem & Beverly Shomali, Chattanooga, TN
"Great, personalized service. It was quality beef, raised and cared for the way God intended. Result - healthy, great tasting meat."
"The Pierces followed the process all the way through - from hoof to the freezer. We enjoy working with them and look forward to adding more "melt in your mouth" beef to the cooler."
Lisa and David Baird, Henryville, IN
"The beef is delicious! We love all the cuts. The ground meat is super lean, the round steak very tender, the roast taste like my Grandmother's Sunday roast I had as a child. The steaks go way beyond expectations, both in taste and appearance. There is nothing to not like! And having the meat personally delivered to my home and placed in my freezer was an unexpected bonus! I have already placed an order for next year....."
Alesia Speer, Bowling Green, KY

"Buying our first calf from Randy was easy. He walked us through each step and helped us figure out the types of cuts that we needed for our family. Throughout the process we had regular communication to ensure there were no surprises. The quality of the beef is outstanding. Tender and flavorful steaks, roasts, and burgers are now waiting patiently in our freezer to be prepared. When buying shoes and underwear, I shop at Wal-Mart. When buying beef for my family to eat, I buy it from Randy. The quality and peace of mind knowing where my beef is coming from is more important that saving a buck by feeding my kids Chinese cows."
Trevor Clopton, Magnolia, KY


"Randy and the folks at Fallen Timber Creek Ranch were a tremendous pleasure to work with. Their live calf program is second to none. They were very helpful and informative, from choosing the cuts of beef to ensuring proper storage upon delivery. The quality and flavor of the beef far exceeded any expectations I had."
Joshua Woods, Glasgow, KY


"I had the good fortune of touring the Fallen Timber Creek Ranch to see the opperation first hand and I\'m here to tell you it's awsome. It was a joy to see those naturally grown calves and meet some of the nisest folks around. Good honest country folks. "
Paul Cote, Randolph, KY
Mailing / Shipping Address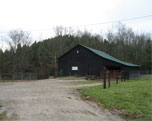 Fallen Timber Creek Ranch
3999 Kino Road
Glasgow, KY 42141
E -mail:
randypierce@FTCRanch.com
Phone: (270) 834-1250
Fax: (270) 428-5559
(call prior to Faxing)