Welcome to Fallen Timber Creek Ranch!

Service
Our family's goal is to provide farm fresh products, with the best possible service you can come by. We are a small operation and work...
Read More
Ordering :
Please call (270) 834-1250 for more information and to order your calf.
We love to share what we're doing here at the creek, so we look forward to hearing from you.
Customer Quotes
"The wonderful family of Fallen Timber Creek Ranch is a joy to do
business with. They market a quality product and their honest and "down home" method of doing business makes you feel a part of their family!"
JR Dakin, Glasgow, KY
"Working with Randy has been pleasure. From our first conversation to the day we took delivery of the beef, Randy has given us the highest level of service imaginable. The quality of the beef and the taste, the butchering, and service has far exceeded our expectations"
Michael Piscatello, Elizabethtown, KY
"This beef is absolutely the best testing, regardless of the cut grind, of any beef we have ever purchased. This includes the Fresh Market. We have found the ground beef to lean and mouthwatering with freshness. I find myself eating most of the cooked ground beef by itself before my wife can use it in a meal... The steaks and roast are unsurpassed with tenderness. Please continue this program so other families can enjoy the healthy goodness you have shared with us."
Russ Pierce, Chattanooga, TN
Read More
Mailing / Shipping Address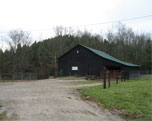 Fallen Timber Creek Ranch
3999 Kino Road
Glasgow, KY 42141
E -mail:
randypierce@FTCRanch.com
Phone: (270) 834-1250
Fax: (270) 428-5559
(call prior to Faxing)